Key roles of a strata manager
Most of what a strata manager does can seem mysterious to outsiders. There are, in fact, many roles that a strata company manages, though some only offer basic services while others are more comprehensive.
In this article, we will take a look at the key roles of strata managers that can help improve your property.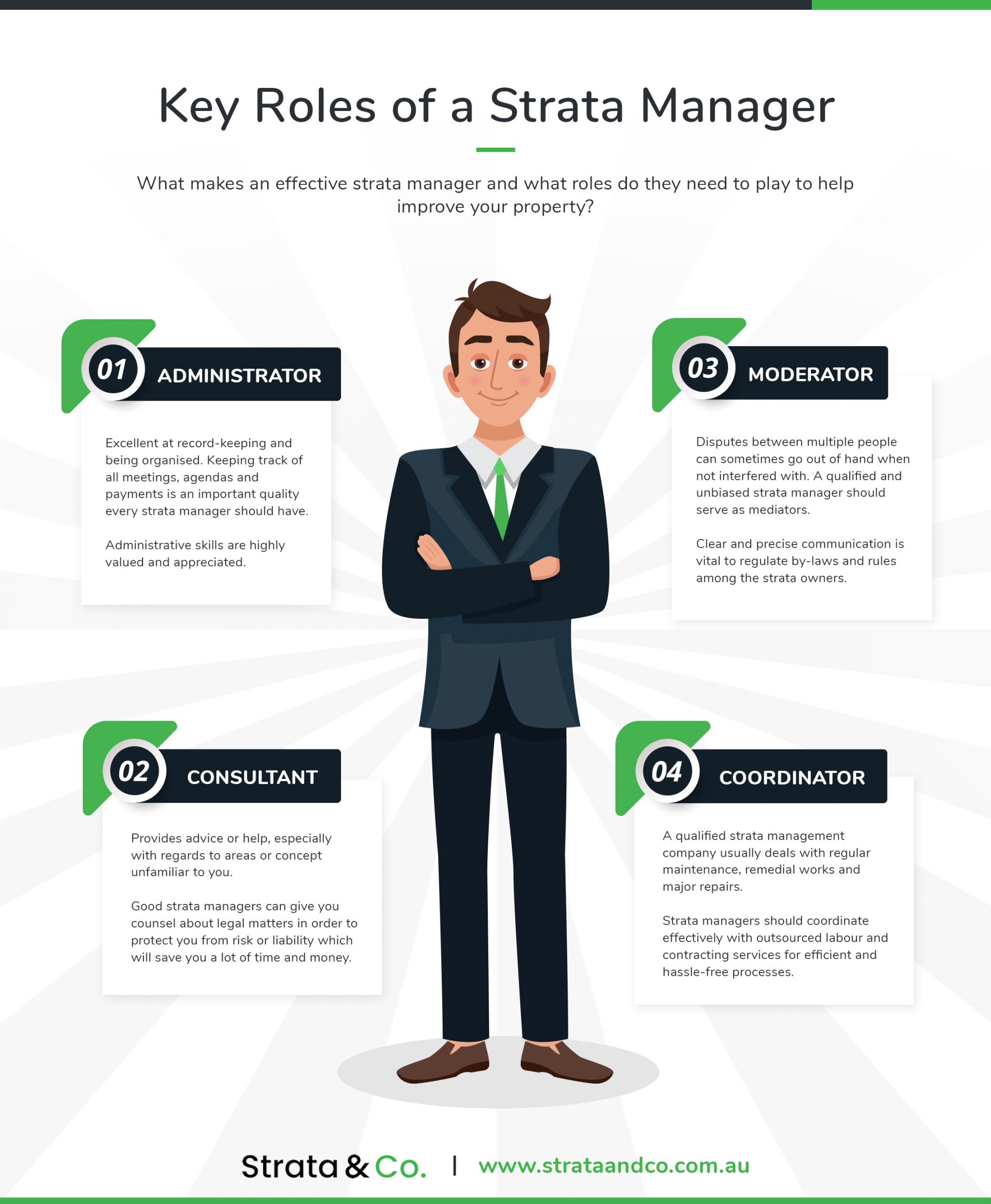 1) Administrator
We all know the value of record-keeping and being extremely organised. This trait is much more important when managing strata complexes.
From keeping track of all meetings, agendas and payments to preparing and distributing official documents and notices, these are all part of the duties of a strata manager.
2) Consultant
You might be after something new or different for your property but want some advice on how to implement it. We often need advice or help, especially with regards to areas we have never looked into before.
When it comes to legal areas, good strata managers can give you advice in order to protect you from risk or liability. This could save you a lot of time and money.
When you own a property, it is invaluable to have professional counsel available when small or large issues pop up.
3) Moderator
Whenever multiple people are involved in anything, it is nice to have mediators on hand. Disputes can far better be handled when an unbiased manager is assessing.
Plus, strata managers provide clear and precise communication which can be dispersed or collected. We can assist with regulating by-laws and rules as well. It helps to have a neutral person available.
4) Coordinator – ongoing maintenance & remedial works
When things need to get done, strata managers can do it. Regular maintenance, remedial works and major repairs – you name it. A qualified management company will be able to fulfil the demand and obtain several quotes to ensure most competitive price, workmanship and warranties are upheld, Including obtaining and checking contractors' licenses and insurances are current.
Most of the time, outside contracting services may be needed in strata buildings, but a strata manager can coordinate those processes seamlessly.
A trusted strata manager is essential because they can be given tasks and you know you'll get the best results.
---
These are some of the main roles of a strata manager.  They don't stop there, however. Strata & Co. prides itself in being the only one of its kind in all of Australia. We are a one-stop-shop for strata management throughout the country, and we live by our motto, 'strata made simple'.
We not only fulfil all the roles detailed in this blog, but we can cover so much more! For more information about how we can help you, contact our friendly and licensed staff at 1300 033 947.