Is pest management a part of strata services?
When people use a strata building, they expect and deserve certain additions. But not mice, rats, snakes and other nasty creatures!
Having pest problems can seriously impact your residents, business and overall building.
So, it is important that strata owners and users know the responsibility and aspects of strata pest management.
We understand that there are many views out there regarding proper pest management. However, we are not going to discuss the actual methods, but rather, the needs and responsibility of managing this issue.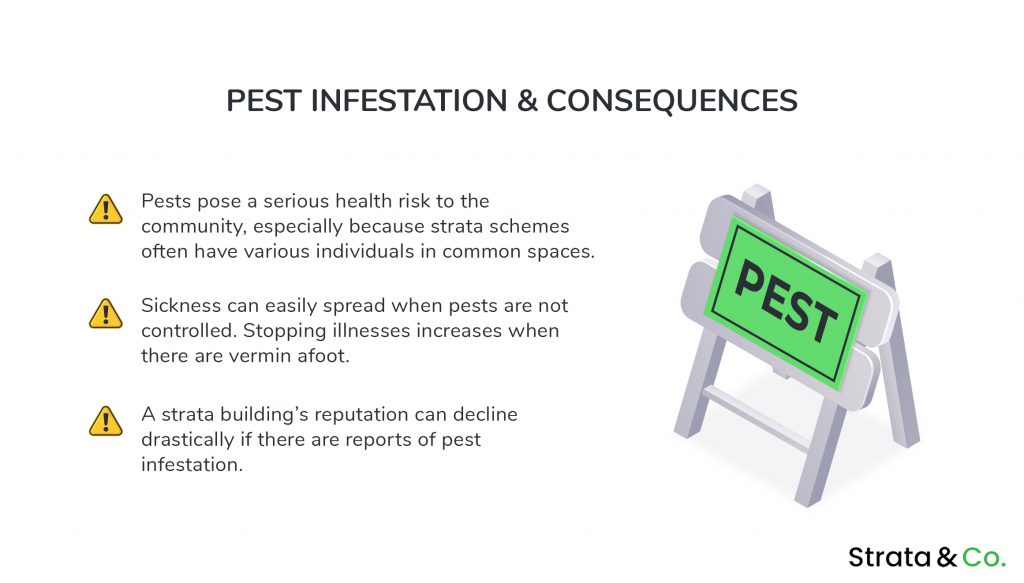 In saying this, there are multiple reasons why pests must be controlled.
Pests pose a serious health risk to the community, especially because strata schemes often have various individuals in common spaces.
As there are lots of community access points and areas, it can be easy for sickness to spread.
You can simply have safety and precautionary measures emplaced, but the difficulty of stopping illnesses increases dramatically when there are vermin afoot.
Throughout history, rats and mice are responsible for many disease spreads. And although we can better combat major contagions, it is still dangerous and irresponsible to allow these potential carriers to propagate and roam free – especially for pets and children's safety.
For everyone's benefit, pests MUST be controlled.
Another reason strata owners ought to control vermin is because if your building has a reputation for having pests and you're not even attempting to control this infestation, then it can impact future decisions of renters, users and even future funding options or appraisals.
Of course, it is far better to be known as a clean and reliable building.
Whose responsibility is it to control pests?
The answer is quite logical. These are just the general guidelines according to NSW Fair Trading.
If pests are present before a tenant begins their stay, then it is the landlord's responsibility. In strata schemes, this may lead to the body corporate getting involved and having to organise a solution.
However, if pests are a result of the actions of the tenant, then the responsibility falls on them.
For example, if a user's area is filthy and they breached agreed conditions, made unauthorised modifications of the building or prompted ways that allowed pests to congregate, then the strata owners have an obligation to ensure that the tenant takes care of the issue.
It isn't enough to say that the individual is fine living with pests. Because in a strata complex, multiple people will be affected.
If, as a tenant, you feel that the blame is being unfairly placed on you to have to deal with the issue, then you can challenge it.
A good rule of thumb for both owners and users is to follow standards and keep areas clean.
How to prevent pests?
The best way to keep pests from your strata is to be proactive. It is better to stop vermin from coming in the first place than to have to control and prevent them afterwards.

Here are some ideas for both strata owners and users to prevent pests.
Keep common and private areas clean.

Vermin typically prefers dirty areas with easy-to-hide spots. Dark and musty rooms attract them.

Every kitchen or food prep area must be extra clean and effective waste removal procedures should be practised.

Food waste is especially popular amongst vermin, hence why food prep areas must have extra strict cleaning procedures. Proper waste removal is essential to prevent rats from entering the building in search of food.

Keep indoor and outdoor bins closed.

This helps the place remain clean and fresh. It also stops insects and rats from congregating inside.

Remove decaying wood or items from any garden or outdoor area.

Rats, snakes and insects love to hide out and use decaying substances as hideouts.

Be vigilant.

Keep an eye out for any decay or signs of infestation, especially for termites in wood. Check closets and cupboards for droppings.
If you are at the stage where pests are already around and you need to remove them, then regardless of who is at fault, professionals should be brought in.
Oftentimes solutions only last a little while before the creatures return, so using experts and having regular inspections will assist in preventing pests.
At Strata & Co., we understand the local area and know how to best help Sydney strata schemes.
We offer comprehensive strata management services in Chatswood and throughout the Greater Sydney region that can help advise and assist with pest management.
For more information, contact our friendly and qualified staff at 1300 033 947.